Online ISSN:
2312-3656
Print ISSN:
2313-2884
Impact Factor: 0.08 (RePEc), 2016 (Germany)
Euclidian Citation Score: 0.92
h5 - index : 2 (Google Scholar)
EconLit - American Economic Association
Aim and Scope
Asian Journal of Economic Modeling aims to present high quality research in a forum that is informative to broad audience of applied economists, including those inside and outside academia. It mainly focuses on the synthesis and integration of applied research. The journal welcomes the papers in the wide areas of agricultural economics, environmental economics, health economics, Islamic economics and all branches of economics as well as commerce, accounting, and statistics, etc.
Subject Area
Economics
Demography
Banking
Accounting
Finance
Statistics
Management Sciences
and wide variety of subject areas where econometric models are applicable ranging from the economics of forestry to bio-social sciences and applied psychology to geography.
Editorial Objectives
AJEM accepts submissions from different regions of the world and aims to publish articles that can be associated with economic modeling.
Target Market
Being an international journal, the natural audience for AJEM includes students, academics, researchers, and professionals in the fields of economic modelling. Likely subscribers are universities, research institutions, research funding organizations, governmental and international agencies, regulatory institutions and individual researchers.
Special Issues
Guest Editors are kindly invited to produce Special Issues consisting of articles organized around a theme of particular interest. These special issues are often edited by guest editors who are not on the editorial board. Proposals for Special Issues are most welcomed as are Guest Editorials and Announcements.
Copyright and Reprint Permission
All Rights is Reserved by AESS Publications. Abstracting or Indexing is allowed with acknowledgment to the journal source. The personal use of the journal articles is acceptable. However, approval to reprint/republish this material for advertising or promotional purposes or for creating new collective works for resale or redistribution to servers or lists, or to reuse any copyrighted component of this work in other works must be obtained from the journal.
Average Time
The average time between submission and final decision is 35 working days and the average time between acceptance and final publication is 30 to 40 days.
DOIs at the article level
Each paper published in Asian Journal of Economic Modelling is assigned a DOI number, Click
HERE
to know what is DOI (Digital Object Identifier).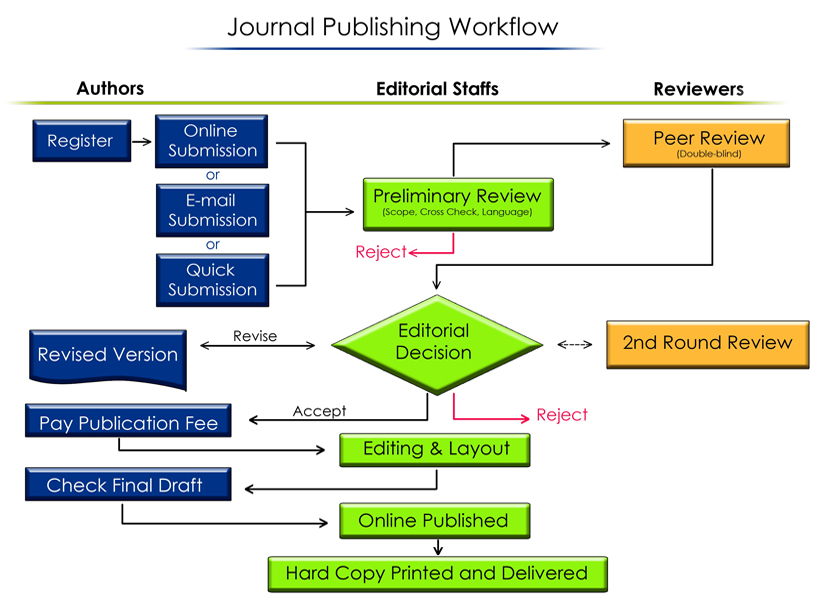 Publication Performance
| | | |
| --- | --- | --- |
| Years | Accepted | Rejected |
| 2017 | 64% | 36% |
| 2016 | 58% | 42% |
| 2015 | 76% | 24% |
| 2014 | 73% | 27% |
| 2013 | 82% | 18% |
Contact Us
Current Status of your submission: (Click)
Information : editor@aessweb.com
Article Status : status@aessweb.com
Article final proofread: proofread@aessweb.com